I do love burlap!

So I had these old vases that have been in my room forever.

I recently upholstered my headboard in burlap and thought why not tie these vases in by doing burlap on them too.

I think they turned out pretty cute.

What do you think??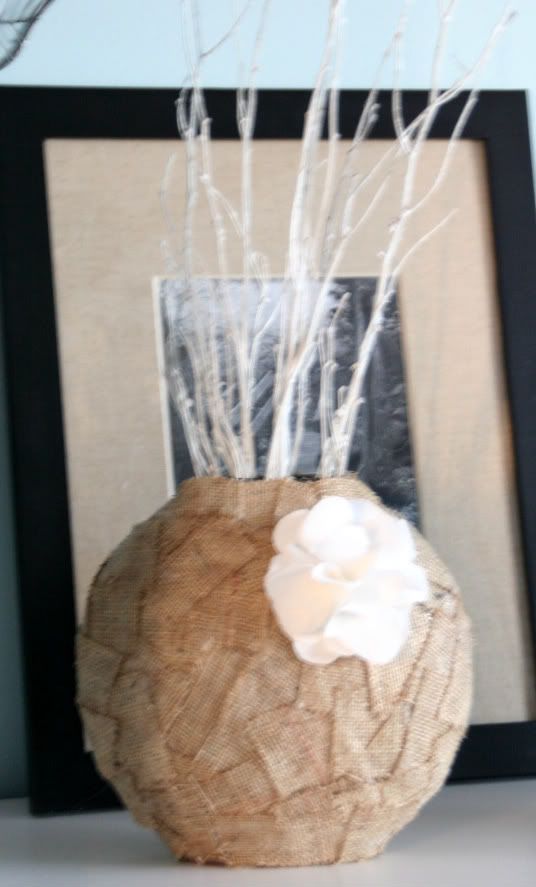 (sorry about the pic, not the best lighting on a dark dreary winters day)
So, first I spray painted some branches that I knew I wanted to put into the vases when I was done.

I have been trying to go lighter in my room, doing way more white.

So the branches went white.
Next I cut up some burlap that I had leftover from the headboard project.

First it went into strips and then into squares.

I cut randomly, making all of the pieces different sizes.

Then, out came the Modge Podge.

I randomly placed the squares all over the vase adhering them with the Modge
Podge.
While this was drying, which seemed like forever (it took a lot of Modge Podge!), I started to create two fabric flowers.

You have probably all seen tutorials around on making fabric flowers.

I got mine from:
http://emilys-little-world.blogspot.com/2011/02/how-to-make-t-shirt-fabric-flower.html
.

I had the fabric leftover from some other project…can't even remember what??

I did not use t-shirt material, It was just a cotton material and it worked just fine.
J
Because I have zero patience, I went ahead and adhered the flower to the vase…as you can see in the pic, Modge Podge is clearly not dry yet!
And Ta Da…you have an awesome, totally unique vase.
Check out our party page to see where we are partying today!
Pin It